Daddy and Julia in Mar Vista/Venice area of Los Angeles on December 31, 2008.

New Year's Resolutions for 2009


THE COUNTDOWN:
A new year and a new start!

Rich Geib's 2009 New Year's Resolutions!

What should I do? Where to go? How to live?

""Be always at war with your vices, at peace with your neighbors, and let each new year find you a better man."
Benjamin Franklin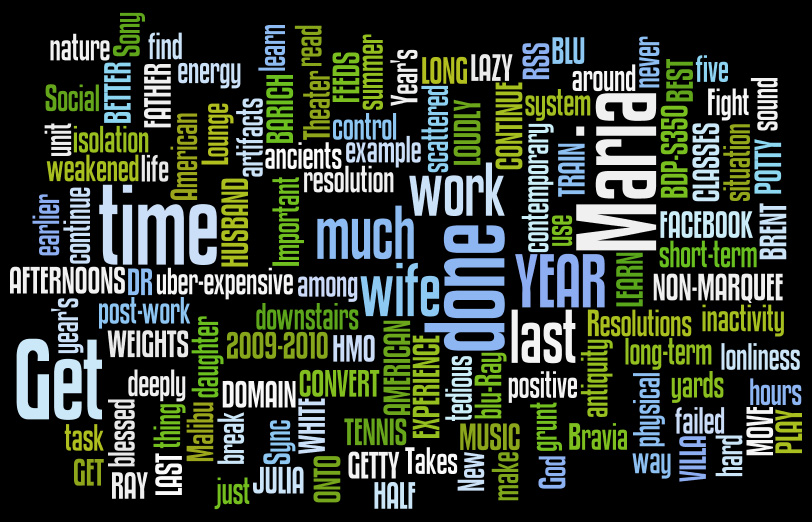 YEAR OF 2009
SAME AS LAST YEAR: TENNIS AND THE WEIGHTS
Same as last year's failed resolution.

STATUS: In large part because of the (almost) free child care, I joined a gym and visited it assiduously. I didn't have time for the greatest, most in depth workouts, but it was a big lifestyle improvement. Success!
CONTINUE BEING THE BEST FATHER AND HUSBAND I CAN BE
Takes just about all my post-work time and energy...

STATUS: Not bad at all. As always: family first (as much as possible).
Sony BDP-S350 unit for blu-Ray so as to continue the Bravia Theater Sync.

STATUS: Total success!
LEARN FROM YOUR BETTER HALF
Social isolation and physical inactivity is not what your wife has done: learn from her positive example

STATUS: Not horrible, not great. Too busy to worry so much about this one for the present....
Get HMO situation under control

STATUS: Success! Continue building doctor-patient relationship with Dr. White.
My God, will this be a blessed thing!

STATUS: Total success! Just in time to return to diaper-land with new baby.
You have an uber-expensive sound system downstairs, but never make the time to use it (or find the time when wife and daughter are not around).

STATUS: I would have to live with the few successes hear and there that I could achieve when cooking in the kitchen with wife not at home.
GET BRENT AND BARICH ONTO FACEBOOK
Fight the lonliness of weakened scattered nature of the contemporary American life in way you can.

STATUS: Total success! Brent and John not so active on Facebook, but I was amazed and pleased to see so many of my own generation gravitating to Facebook. I was able, even briefly, to re-connect and touch bases with old high school and college fraternity buddies! So healing, so nice.

MOVE AMERICAN EXPERIENCE TO ITS OWN DOMAIN

Important task in long-term but much short-term tedious grunt work. Get it done.

STATUS: Done! Expensive and tedious, but it should be the basis for the next decade.

LONG AND LAZY AFTERNOONS AT THE GETTY VILLA

Lounge about for hours among the artifacts of antiquity in Malibu and read deeply of the ancients during summer break.

STATUS: Total success!

RSS FEEDS TO NON-MARQUEE CLASSES
The last five yards after so much earlier hard work. Get it done in 2009-2010.

STATUS: On the way to being done....

MAKE SOME KIND OF DENT IN THE "TO READ" AND "TO WATCH" BOOK PILE --

Here is the lineup at this time:

First Rung:

"What Hath God Wrought: The Transformation of America, 1815-1848" by Daniel Walker Howe
"A Most Wanted Man" by John le Carré
"Tried by War: Abraham Lincoln as Commander in Chief" by James McPherson
"Up in the Air" by Walter Girn
"Never Check E-Mail In the Morning: And Other Unexpected Strategies for Making Your Work Life Work" by Julie Morgenstern
"NurtureShock: New Thinking About Children" by Ashley Merryman and Po Bronson
"Mother on Fire: A True Motherf%#$@ Story About Parenting!" by Sandra Tsing Loh
"The Water is Wide: A Memoir" by Pat Conroy
The No-Cry Discipline Solution: Gentle Ways to Encourage Good Behavior Without Whining, Tantrums, and Tears" by Elizabeth Pantley
The Manipulative Child: How to Regain Control and Raise Resilient, Resourceful, and Independent Kids" by Ernest W. Swihart Jr. and Patrick Cotter
Teach Like Your Hair's on Fire: The Methods and Madness Inside Room 56" by Rafe Esquity
"Lighting Their Fires: Raising Extraordinary Children in a Mixed-up, Muddled-up, Shook-up World" by Rafe Esquity
"The Forever War" by Dexter Filkins
"Will the Circle Be Unbroken?: Reflections on Death, Rebirth, and Hunger for a Faith" by Studs Terkel
"Hope Dies Last: Keeping the Faith in Troubled Times" by Studs Terkel
"Facing Unpleasant Facts and All Art is Propaganda" by George Orwell, complied by George Packer
"Mother on Fire: A True Motherf%#$@ Story About Parenting!" by Sandra Tsing Loh
"Of Plymouth Plantation" by William Bradford
"Gomorrah: A Personal Journey into the Violent International Empire of Naples' Organized Crime System" by Roberto Saviano
"Promised Land: Thirteen Books That Changed America" by Jay Parini
"The Strongest Tribe" by Bing West
"The Time of My Life" by Patrick Swayze and Lisa Niemi
"The End of Poverty: Economic Possibilities for Our Time" by Jeffrey Sachs
"The Reader" by Bernhard Schlink
"The Abstinence Teacher" by Tom Perrotta
"The Audacity of Hope: Thoughts on Reclaiming the American Dream" by Barack Obama
"Tess of the Durbervilles" by Thomas Hardy
"The Impending Crisis, 1848-1861" by David M. Potter
"Reconstruction: America's Unfinished Revolution, 1863-1877" by Eric Foner (read in December 2009)
"The Conquest of Gaul" by Julius Caesar
"Anabasis: The Persian Expedition" by Xenophon
"Mystic River" by Dennis Lehane
"Gone Baby Gone" by Dennis Lehane
"N

ixon and Kissinger: Partners in Power

" by Robert Dallek
"N

ixonland: The Rise of a President and the Fracturing of America

" by Rick Perlstein
"

The Secret Man: The Story of Watergate's Deep Throat

" by Bob Woodland
"

Never Check E-Mail In the Morning: And Other Unexpected Strategies for Making Your Work Life Work" by Julie Morgenstern

"

Summer for the Gods: The Scopes Trial and America's Continuing Debate over Science and Religion

" by Edward J. Larson
Beautiful Boy: A Father's Journey Through His Son's Meth Addiction" by David Sheff
"Tweak: Growing Up on Methamphetamines" by Nic Sheff
"The Little Mermaid" by Hans Christian Andersen
"The Unredeemed Captive: A Family Story from Early America" by John Putnam Demos

Second Rung: On the radar screen but longer-term goals:

MAKE SOME KIND OF DENT ON THE NETFLIX QUEUE --
"Darwin's Nightmare"
"Downfall"
"The People vs. Larry Flynt"
"Beaufort"
"Lawrence of Arabia"
"American Experience: The Rockefellers"
"The Wobblies"
"I've Loved You So Long"
"The Seventh Seal"
"This Film is not Yet Rated"
"Friends of God: A Road Trip with Alexandra Pelosi"
"The Edward R. Murrow Collection"
"Dying Young"
"Lorenzo's Oil"
"Deliver Us From Evil"
"Harlan County, U.S.A.
"Public Enemies"
"Bra Boys"
"Mongol"
"Body of Lies"
"Enter Les Murs"
"Quantum of Solace"
"Battlestar Galactica: Season 4"
"Battlestar Galactica: Season 4.5"
"Phillip K. Dick: The Penultimate Truth"
"Chicago 10"
"Commune"
"Waltz With Bashir"
"The Wrestler"
"Valkyrie"
"The Reader"
"Revolutionary Road"
"The Road"
"The Reader"
"Quantum of Solace"
"JCVD"
"Gran Torino"
"Gomorra"
"Frost/Nixon"
"Entre Les Murs"
"Defiance"
"Slumdog Millionaire"
"Changeling"
"Body of Lies"
"Austraila"
"The Shield": entire series
"George Wallace"
"Stevie"
"Frozen River"
"What Doesn't Kill You"
"Resolved"
"Frost Nixon: Watergate Interviews"
"Doctors' Diaries"
"Rescue Dawn"
"Clarence Darrow"
"Frontline: Sick Around America"
"The Brain"
"Taken"
"Righteous Kill"
"Medea"
"King Corn"
"Food, Inc."
"Eric Clapton: Sessions for Robert Johnson "
"Appaloosa"
"Religulous"
"Black Belt"
"Sergeant York"
"The Wobblies"
"Mountain Patrol: Kekexili"
"The Laramie Project"
"American Teen"
"The U.S. Mexican War"
"Expelled: No Intelligence Allowed"
"Spartacus"
"Judgment Day: Intelligent Design on Trial"
"The Bucket List"
"Andrew Carnegie and the Age of Steel"
"Buenavista Social Club"
"The Baader Meinhof Complex"
"The Terri Schiavo Story
"The Dark Ages
"Billy the Kid"
"George Balanchine's The Nutcracker"
"Frontline: Bad Voodoo's War"
"Guitarra!: A Musical Journey Through Spain"
"Sin Nombre"
"Stress: Portrait of a Killer"

PAST YEAR'S RESOLUTIONS:
---


Back to About the Author Page