New Year's Resolutions for 2008


NEW YORK TIMES SQUARE:
Three young ladies with specialized eyeglasses await the onslaught of the New Year!

Rich Geib's 2008 New Year's Resolutions!

What should I do? Where to go? How to live?

"We will open the book. Its pages are blank. We are going to put words on them ourselves. The book is called Opportunity and its first chapter is New Year's Day."
Edith Lovejoy Pierce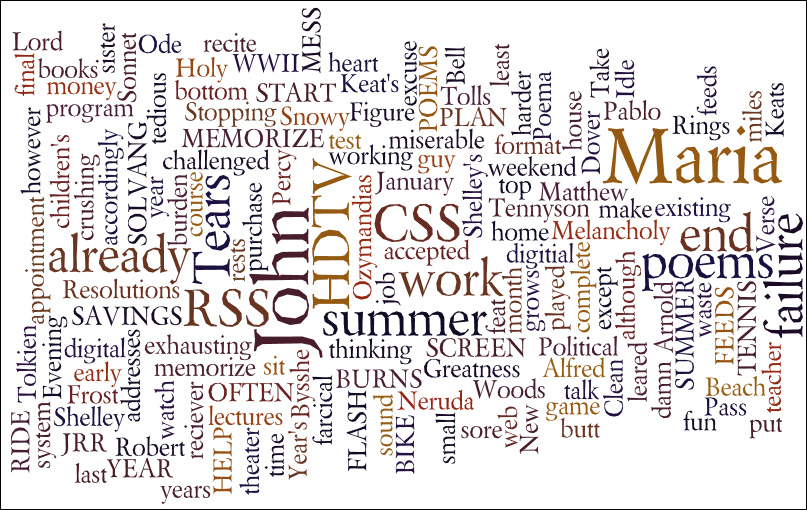 YEAR OF 2008
SAME AS LAST YEAR: TENNIS AND THE WEIGHTS
Same as last year's failed resolution.

STATUS: Failed miserably. Again.
SAME AS LAST YEAR: LUNCH

Same as last year's failed resolution.

STATUS: Failed miserably. Again.
SOLVANG CENTURY BIKE RIDE!


My sister has challenged me and I have accepted. 100 miles is more tedious to ride than exhausting, although it is that; my butt, however, is already sore thinking about that athletic feat. But it will be fun to do with Katie, as we make a weekend out of it, and it is an excuse to work out harder.

STATUS: Although sick as a dog and having not trained at all for months, I still performed very well in this race, albeit at onely 50 miles. Coughed like a comsumptive during the race, however.
SUMMER WWII BURNS SERIES

This summer sit down and watch it from beginning to end and absorb it.


STATUS: No go, but there is plenty of time for this treat. No worries here.

HELP OUT MARIA MORE OFTEN

Clean up more around the house and ease the crushing burden that rests on us working parents.

STATUS: Not bad at all! I am doing pretty well here.

CSS AND FLASH

Take all you have leared in the past month about CSS and modify existing web addresses accordingly. Not a small job for summer of 2008.

STATUS: Pretty good here. Tedious and time consuming, but I learned and can do it.

RSS FEEDS

Figure this out from the top to bottom. All work lectures in digital format in RSS feeds.

STATUS: Pretty darn good here, although getting everything done into an RSS feed will take a few years.
Over the course complete HDTV purchase by building home theater with digitial reciever and 7.1 sound system.

STATUS: Done. And done well.
For Julia I will memorize poems and recite them to her as a game as she grows and learns to talk. My wife can read those farcical children's books with her, as I cannot. You already know quite a few poems by heart, but add these (at least) to the list: "Verse of the Rings" by JRR Tolkien, "Stopping By Woods On A Snowy Evening" by Robert Frost, "For Whom The Bell Tolls" and "Holy Sonnet X" by John Donne, "Poema Quince" by Pablo Neruda, "Tears, Idle Tears" by Alfred Lord Tennyson, "Dover Beach" by Matthew Arnold, Shelley's "Political Greatness" and "Ozymandias" by Percy Bysshe Shelley, John Keat's "Ode to Melancholy" by John Keats.

STATUS: What was I thinking? More to the point, I memorized "Baby Beluga" and "The Wheels on the Bus." Someday this might be more relevant.

CTEL MESS

Pass that damn test and put a final end to the miserable waste of time played out over no less than 16 years which has been my teacher certification program.

STATUS: Total success. And total waste of my precious, limited time.

MAKE SOME KIND OF DENT IN THE "TO READ" BOOK PILE --
Surprising for the circumstances, I gained good reading momentum from last year which I hope to keep up:

STATUS: I read many fewer books for work, but that seems totally fine with me. It was a good year of reading good books and watching good movies, considering that I had a baby in the house and was busier than a one-armed wallpaper hanger.

First Rung:

"Anabasis: The Persian Expedition" by Xenophon
"Atonement" by Ian McEwan
"The Reckless Decade: America in the 1890s" by H.W. Brands
"Supercapitalism: The Transformation of Business, Democracy, and Everyday Life" by Robert Reich
"Autobiography of Andrew Carnegie by Andrew Carnegie"
"Desert Solitaire: A Season in the Wilderness" by Edward Abbey
"Under God: Religion and American Politics" by Gary Wills
"Truman" by David McCullough
"The Conquest of Gaul" by Julius Caesar
"The Man in the High Castle" and "Do Androids Dream of Electric Sheep?" by Phillip Dick
"The House of Mirth" by Edith Wharton

(DID READ - not much mirth in this book)

"Tested" by Linda Perlstein
"Generation Kill" by Evan Wright
"The Great Expectations School" by Dan Brown
"A Soldier's Daughter Never Cries" by Kaylie Jones "Personal Memoirs" by Ulysses S. Grant
"Henry Clay: Statesman for the Union" by Robert Remini
"The Day of Battle: The War in Sicily and Italy, 1943-1944" by Richard Atkinson
"Summer for the Gods: The Scopes Trial and America's Continuing Debate Over Science and Religion" by Edward J. Larson
"The Age of Reform" by Richard Hofstadter
"Into the Wild" by Jon Krakauer
"The Impending Crisis, 1848-1861" by David Potter
"The Freedom Manifesto: How to Free Yourself from Anxiety, Fear, Mortgages, Money, Guilt, Debt, Government, Boredom, Supermarkets, Bills, Melancholy, Pain, Depression, Work, and Waste" by Tom Hodgkinson
"Beaufort" by Ron Leshem and Evan Fallenberg
"The Fifth Woman" by Henning Mankell
"Our School: The Inspiring Story of Two Teachers, One Big Idea, and the School That Beat the Odds" by Joanne Jacobs
"Living My Life" by Emma Goldman

"The Heroin Diaries: A Year in the Life of a Shattered Rock Star" by Nikki Sixx

"Lone Survivor" by Marcus Luttrell

""Hope Dies Last: Keeping the Faith in Troubled Times" by Studs Terkel

"First Do No Harm" by Lisa Belkin

"Mountains Beyond Mountains" by Tracy Kidder

"The Abstinence Teacher" by Tom Perrotta

"An American Tragedy" by Theodore Dreiser
"Windows of Brimnes: An American in Iceland" by Bill Holm

(DID READ - intriguing voice in a minor way)

"No Man Knows My Name: The Life of Joseph Smith" by Fawn M. Brodie

"No Country for Old Men" by Cormac McCarthy

(DID READ - sheriff's musing most interesting!!)

"Dreams from My Father: A Story of Race and Inheritance" by Barack Obama
"The Audacity of Hope: Thoughts on Reclaiming the American Dream" by Barack Obama
"Teaching Life: Letters from a Life in Literature: by Dale Salwak

(DID READ - first half worth reading, if only to remind myself what I dislike in traditional academics)

"Equus" by Peter Shaffer

"The Given Day" by Dennis Lehane

Second Rung: On the radar screen but longer-term goals:

MAKE SOME KIND OF DENT ON THE NETFLIX QUEUE WITH THE NEW FLATSCREEN LCD TELEVISION--
"Harlan County"
"Into the Wild"
"This is England"
"Philadelphia" There is much to mine here! Watch this film again carefully.
"There Will Be Blood"
"3:10 to Yuma"
"28 Weeks LAter"
"The Fog of War"
"Amazing Grace"
"My Son the Fanatic"
"The Dark Night"
"Lions for Lambs"
"In the Valley of Elah"
"Why We Fight"
"Things We Lost in the Fire"
Seven Up" series
"No Country for Old Men"
"Red Belt" "Bella"
"American Gangster"
"We Own the Night"
"Into the Wild" (and read Krackauer book, too!)
"The Assassination of Jesse James"
"Paradise Now"
"The Last King of Scotland"
Michael Clayton
"Atonement" (and read McEwan book, too!)
"Rome" HBO series
"Thank You For Smoking"
"Lake of Fire"
"Bladerunner," Director's Cut
"The Devil Came on Horseback"
"Beowulf," Director's Cut
"American Gangster"
"2006 Giro d'Italia: Benissimo Basso!" "
"Rendition"
"Saints and Soldiers"
"Across the Universe"
"The Assassination of Jesse James by the Coward Robert Ford
"Battlestar Galactica"
"The Bucket List"
"We Own the Night"
"Eastern Promises"
"Things We Lost in the Fire"
"The Sea Inside"
"Lions for Lambs"
"The Four Feathers"
"Bella"
"August Rush"
"Charlie Wilson's War"
"Into the Wild"
"Cloverfield"
"The Great Debaters"
"American Experience: Alexander Hamilton"
"American Experience: Walt Whitman"
"Off the Grid: Life on the Mesa"
"Woodie Guthrie: Ain't Got No Home"
"Pete Seeger: The Power of Song"
"Bruce Springsteen: Videobiography"
"The Flight That Fought Back"
"Gone Baby Gone"
"The Perfect Score"
"American Experience: The Mormons"
"Fidel Castro: American Experience"
Frontline: Growing Up Online"
"In the Womb"
"Terra Incognita: Stem Cells"
"What Would Jesus Buy?"
"Shooting Henry Hill"
"Equus"
"Andrew Cargnegie and the Age of Steel"
"Spartacus"
"Evolution: The Mind's Big Bang / What About God?"
"Expelled: No Intelligence Allowed"
"Judgement Day: Intelligent Design on Trial"
"Forgetting Sarah Marshall"
"Hancock"
Mountain Patrol: Kekexili
"Star Wars: The Clone Wars"
"The Dark Knight"

PAST YEAR'S RESOLUTIONS:
---


Back to About the Author Page