New Year's Resolutions for 2006


AND NOW FOR SOMETHING A LITTLE DIFFERENT:
Katerina Horackova of the Czech Republic (L) and Aneta Kosciesza of Poland celebrate the first day of the new year at the bottom of the Canyon outside of Dahab, Egypt January 1, 2006.

Rich Geib's 2006 New Year's Resolutions!

What should I do? Where to go? How to live?
"I will seek elegance rather than luxury, refinement rather than fashion. I will seek to be worthy more than respectable, wealthy and not rich. I will study hard, think quietly, talk gently, act frankly. I will listen to stars and birds, babes and sages, with an open heart. I will bear all things cheerfully, do all things bravely await occasions and hurry never. In a word I will let the spiritual, unbidden and unconscious grow up through the common."
--- William Ellery Channing, New Year's Resolutions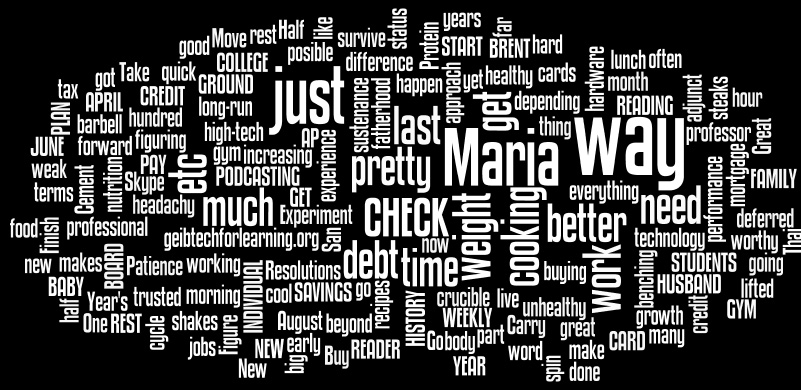 YEAR OF 2006
SURVIVE UNTIL THIS APRIL!


I will be working pretty much two full time jobs until April with many depending on my performance! I would like to survive the experience.

STATUS: I survived, but it was just about as ugly as I was predicting. I survived.

GET geibtechforlearning.org OFF THE GROUND
Cement your status as a worthy and trusted adjunct professor. It is more than half done - just make the rest happen!

STATUS: I did it, but I have experienced less fulfillment than I was hoping.

PODCASTING, BABY!

You did the hard work in terms of figuring out the technology and buying the hardware. Now just do the other part.

STATUS: Making adjustments along the way for what works best and is most time efficient, a measured success is this one.

CHECK IN MORE WITH INDIVIDUAL STUDENTS

Take it that last 5% which makes the difference... "the good is the enemy of the great."

STATUS: Doing as well as I can with so many students and only one self.

BE A READER FOR THE COLLEGE BOARD AP US HISTORY READING IN JUNE

Great opportunity for professional growth - be there in San Antonio, if at all posible.

STATUS: Did it. Not enjoyable, but worth doing once. Worked like a mule by ETS - the "evil empire." Did it. Not doing it again.

START A 457 SAVINGS PLAN

A couple hundred a month, tax deferred.

STATUS: Not done. Do this in 2007.

PAY OFF REST OF CREDIT CARD DEBT

Finish it off and live with no debt on credit cards - you are not far now, and just get rid of the last of it. Carry not debt, other than mortgage.

STATUS: Done! Make this a habit.

CHECK IN WEEKLY WITH JOHN AND BRENT

One word: Skype.

STATUS: Better with John than with Brent. I should have remedied this with Brent's Christmas present...

BE A GOOD HUSBAND
Patience, attentiveness, etc. Go above and beyond.

STATUS: 2006 best year of marriage so far...

FAMILY

This August...

STATUS: Incredible success soon to be realized in flesh and blood form.

HOME GYM

Buy the high-tech barbell thing and a spin cycle - no need to go to the gym in the crucible of early fatherhood, as I will own everything I need by then. Move forward with big increasing in weight lifted - approach benching your body weight.

STATUS: All items purchased and available, now I just need to find the energy to use them after a full day of work.

LUNCH

Figure out a better way to get nurtition and sustenance during lunch at work. Half an hour is not much time, but way too often you are headachy and weak from not eating at all from 7 in the morning until 3 in the afternoon. Over the long-run this is pretty unhealthy, and it has been going on for years.

There has got to be a better way - a quick, healthy, yet filling way. Protein shakes?

STATUS: Pretty much a total failure on this one.

NEW RECIPES!
Experiment with some new and cool recipes - Thai food, cooking in a wok, cooking steaks. etc.

STATUS: Doing better with the steaks and other meats, but not terribly much success here. What a coward am I!
MAKE SOME KIND OF DENT IN THE "TO READ" BOOK PILE --

I own all the following books and they are in a pile near my bed, but when I will find time to read these entirely escapes me... Nevertheless, here it is:

First Rung:

"Reconstruction" by Eric Foner (DID NOT READ)
"I, Caludius," by Robert Graves (DID READ)
"Claudius, the King, by Robert Graves (DID READ)
"His Excellency, George Washington" by Joseph Ellis (DID NOT READ)
"Alexander Hamilton" by Ron Chernow (DID NOT READ)
"Andrew Jackson" by W.H. Brands (DID READ)
"John Brown, Abolitionist,"

by David S. Reynolds (DID READ)
"The Warrior and the Priest" by John Nilton Cooper, Jr. (DID NOT READ)
"Things Fall Apart," by Chinua Achebe (DID READ)
"The House of Mirth" by Edith Wharton (DID NOT READ)
"Woodrow Wilson" by W.H. Brands (DID READ)
"The Unredeemed Captive" by John Demos (DID NOT READ)
"The Life and Times of Cotton Mather," by Kenneth Silverman (DID NOT READ)
"McTeague" by Frank Norris (DID NOT READ)
"Ulysses S. Grant" by Michael Kondar (DID READ)
"The Invisible Man" by Ralph Ellison (DID READ)
"All the King's Men" by Robert Penn Warren (DID READ)

These books are still all next to my bed.

I did read in 2006, however, a whole slew of books about raising babies and about father-daughter relationships! And in the summer I also listened to a huge lecture circuit on the history of Rome.

NEW YEAR'S RESOLUTIONS:
---


Back to About the Author Page