New Year's Resolutions for 2011

NEW YEAR'S HAPPINESS IN HONG KONG:
A new year and a fresh start!
Rich Geib's 2011 New Year's Resolutions!

What should I do? Where to go? How to live?

"It is a most mortifying reflection for a man to consider what he has done, compared to what he might have done."
Samuel Johnson, in Boswell's Life of Johnson, 1770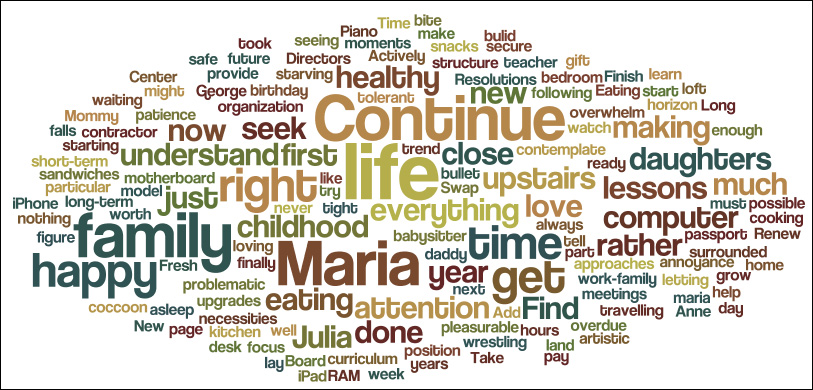 YEAR OF 2011
Stability, structure, attention, patience, and love.

Continue to do everything possible to provide a happy childhood for daughters. Continue to tell Julia right before she falls asleep the following: "Mommy and daddy love you so much and are so happy you are part of our family! Remember you are right here in your home safe, warm and surrounded by your loving family. Sleep tight my beautiful princess!" There is no gift like a secure and happy childhood.

STATUS: Progresses well. Hard to know how well it goes on a daily basis, but it has my full attention.

Settle into new position.
As one of the Board of Directors for the Center for Civic Education, watch and learn at meetings, pay close attention to everything, and say nothing for the first year as I seek to understand the lay of the land in that organization and try to understand how I can help.

STATUS: I am watching and learning. Not quite sure what to think yet.
Assimilate iPad and iPhone into how I live.

Take what is useful and pleasurable in these new technologies and make your life richer. In particular, daughters and reading and more multimedia while cooking and eating family dinners. You have all the media ready, now just get it more into your kitchen and family life.

STATUS: Very much a success, but not exactly as I envisioned it. What one thinks will be used and what one actually uses are different things. There is what sounds cool because you can do it, and then there is what is cool and you actually use in the way you live.

Continue with the healthy lunches!

Eating at work has always been problematic as a teacher, seeing I have a mere 20 minutes to chow down. But finally you are making healthy sandwiches and eating them at your desk, rather than starving and scraping by with snacks! It only took you sixteen years to figure this out? Continue this positive trend.

STATUS: A moderate success! But you need to branch out from sandwiches so you do not bore yourself to death.

Swap out motherboard, CPU, and RAM.

Long overdue, bite the bullet and endure this annoyance. Your daily life on computer will be much easier and hassle-free. I know you are not very tolerant right now of wrestling with computer upgrades, but this will be well worth doing. Just do it already. You should have done it last year.

STATUS: Success! But it was every bit the hassle you expected -- one full week of nothing but upgrading and transferring data and installing software. But this is much in indisputable: it was long overdue.

Add on upstairs.

Pay a contractor to close off the upstairs loft and convert it into a bedroom.

STATUS: Not even close.

Find the moments for one-on-one time with Maria.

One word: babysitter. That time is just beginning to rise above the horizon in the future as Elizabeth Anne approaches her first birthday.

STATUS: No success in this at all. But that time, as EA approaces the end of diapers, would appear on the horizon. Agaion, use the PRC heavily.

Renew passport

Time to contemplate emerging from the work-family coccoon to start travelling again.

STATUS: No success at all. It might take another year or two.

Finish model curriculum page.

Find the time and focus for a few hours... and then it will be done.

STATUS: No success at all. Just had no motivation to do this.

Buy and try out an "e-reader."

Although I see nothing wrong with "traditional" books and have always enjoyed them, I am ready to give a fair hearing to the "e book" after having heard enough thinkers I respect extol them to the skies. Time to give this now mature technology an honest try out.

STATUS: Huge success! I am firmly ensconced in this world now.

Convert all AmEx media to a multimedia and downloadable format with directions and commentary...

...continue to prepare actively for that not terribly distant day when each student will have their own personal mobile computing device (1:1 computing) in your class. Video will be, after all, the future that will be Web 3.0 -- and I will be ready for it.

STATUS: The mobile broadband and tablet technology is still a few years away to make this feasible/practical, but I consolidated gains from 2010 in this respect.

Fresh artistic and athletic pursuits.

Piano lessons for Maria and Tae Kwon Do lessons for Julia starting next week. Paying for the necessities and making it to the end of the day is not enough. We must seek, bulid, and grow. "It is never too late to be who you might have been." claimed George Eliot. What are you waiting for? Don't let short-term exigencies get in the way of long-term vision. Actively get out of life what you want rather than passively letting life overwhelm you.

STATUS: Family joined the PRC and the athletic pursuits in active operation. Artistic aspect ignored for now. This was PLENTY for one year.

MAKE SOME KIND OF DENT IN THE "TO READ" BOOK PILE --
Here is the lineup at this time:

"High Strung: Bjorn Borg, John McEnroe, and the Untold Story of Tennis's Fiercest Rivalry" by Stephen Tignor
"Game of Thrones" by George R. R. Martin
"Columbine" by Dave Cullen
"Mother California: A Story of Redemption Behind Bars" by Kenneth E. Hartman
"Truman" by David McCullough
"American Caesar: Douglas MacArthur 1880 - 1964" by William Manchester
"Kim" by Rudyard Kipling
"Work Hard. Be Nice: How Two Inspired Teachers Created the Most Promising Schools in America" by Jay Mathews
"Hitch-22: A Memoir" by Christopher Hitchens
"The Spirit Catches You and You Fall Down" Anne Fadiman

"The Forgotten Man: A New History of the Great Depression

" by Amity Shlaes

"Let Us Now Praise Famous Men"

by James Agee
"The Reckless Decade: America in the 1890s" by H.W. Brands
"Talking Points" by George W. Bush

"Self-Made Man: One Woman's Journey into Manhood and Back Again

" by Norah Vincent
"Freedom" by Jonathan Franzen
"Blindness" by José Saramago
"The Wonderful Wizard of Oz" by L. Frank Baum
"Unequal Childhoods: Class, Race, and Family Life" by Annette Lareau
"

Voluntary Madness: Lost and Found in the Mental Healthcare System"

by Norah Vincent
"Narrative of Sojourner Truth" by Sojourner Truth
"A Champion's Mind: Lessons from a Life in Tennis" by Pete Sampras and Peter Bodo
"Unbroken: A World War II Story of Survival, Resilience, and Redemption" by Laura Hillenbrand
"Selfish Reasons to Have More Kids: Why Being a Great Parent is Less Work and More Fun Than You Think" by Bryan Caplan
"The Anti-Romantic Child: A Story of Unexpected Joy" by Priscilla Gilman
"The Art of Doubles" by Pat Blaskower
"The Other Wes" by Wes Moore
"Mindset" by Carol Dweek
"Bossypants" by Tina Fey
"Pride and Prejudice" by Jane Austin
"Parting the Waters" by Taylor Branch
"

The Filter Bubble: What the Internet Is Hiding from You

" by Eli Parise
"Couplehood," "Babyhood," and "Fatherhood" by Paul Reiser
"This I Believe: On Fatherhood"
"Race Against The Machine: How the Digital Revolution is Accelerating Innovation, Driving Productivity, and Irreversibly Transforming Employment and the Economy" by Erik Brynjolfsson and Ander McAfee
"The Enemy" by Christopher Hitchens
"Your Child's Writing Life: How to Inspire Confidence, Creativity, and Skill at Every Age" by Pam Allyn
"Our Fathers, Ourselves: Daughters, Fathers, and the Changing American Family" by Dr. Peggy Drexler
"The Leftovers" by Tom Perrota
"Winning Ugly: Mental Warfare in Tennis - Lessons from a Master" by Brad Gilbert and Steve Jamison
Clarence Darrow: Attorney for the Damned" by John A. Farrell
"The Adventures of Huckleberry Finn" by Mark Twain
"Neptune's Inferno: The U.S. Navy at Guadalcanal" by James D. Hornfischer
"The Greater Journey: Americans in Paris" by David McCullough
"Water for Elephants"
"Holidays in Heck" by P.J. P'Rourke
"The Art of Doubles"
"Crazy U" by Andrew Ferguson
"30 Lessons for Living: Tried and True Advice from the Wisest Americans," by Karl Pillemer
"Unequal Childhoods" Class, Race, and Family Life, Second Edition with an Update a Decade Later" by Annette Lareau

MAKE SOME KIND OF DENT ON THE NETFLIX QUEUE --
"The Way Back"
"The Company Men"
"Win Win"
"Water for Elephants"
"Midnight in Paris"
"Another Year"
"Sarah's Key"
"The Company Men"
"Contagion"
"Crazy, Stypid, Love.
Pride & Prejudice
"The Fighter"
"The Great Inca Rebellion"
"Life and Death in the War Zone: Nova"
"Blindness"
"Naturalist E.O. Wilson: Lord of the Ants"
"Rise of the Planet of the Apes"
"In a Better World"
"Frontline: Facing Death"
"The Conspirator"
"Horrible Bosses"
"Rabitt Hole"
"Tiny Furniture"
"Father of My Children"
"Get Low"
"I Am Because We Are"
"Inside Job"
"Hall Pass"
"The Conspirator"
"Love and Other Drugs"
"White Material"
"Of Gods and Men"
"Tron"
"Tron Legacy"
"Rescue Me"
"Le Pere de Mes Enfants"
"The Suicide Tourist"
"I Am Because We Are"
What Darwin Never Knew: NOVA
"Waiting for 'Superman'"
"Inside Job"
"Freakonomics"
"Inception"
"Tron"
"Tron Legacy"
"Flipped"
"Easy A"
"Get Low"
"Mother and Child"
"Men of a Certain Age"
"Waking Life"
"Underground"
"Confessions of a Superhero"
"Grizzly Man"
"Black Swan"
"The Social Network"
"Another Year"
"True Grit"
"Tangled"
"Somewhere"
"The Kids Are All Right"
"The Exploding Girl"
"Casino Jack and the United States of Money"
"Casino Jack"
"Biutiful"
"September 11"
"Carlos"
"Blue Valentine"
"The Way Back"
"Race to Nowhere"
"Black Swan"
"Freakonomics"
"Mind of a Serial Killer: NOVA"
"The Other Woman"
"Of Gods and Men"
"The Lincoln Lawyer"
"Midnight in Paris"
"S.O.B"
"Frontline: The Suicide Tourist"
"Love and Other Drugs"
PAST YEAR'S RESOLUTIONS:

---

Back to About the Author Page