New Year's Resolutions for 2007


NEW YORK TIMES SQUARE:
Two young ladies with specialized eyeglasses await the onslaught of the New Year!

Rich Geib's 2007 New Year's Resolutions!

What should I do? Where to go? How to live?
"Our ideals resemble the stars, which illuminate the night. No one will ever be able to touch them. But the men who, like the sailors on the ocean, take them for guides, will undoubtedly reach their goal."
--- Carl Schurz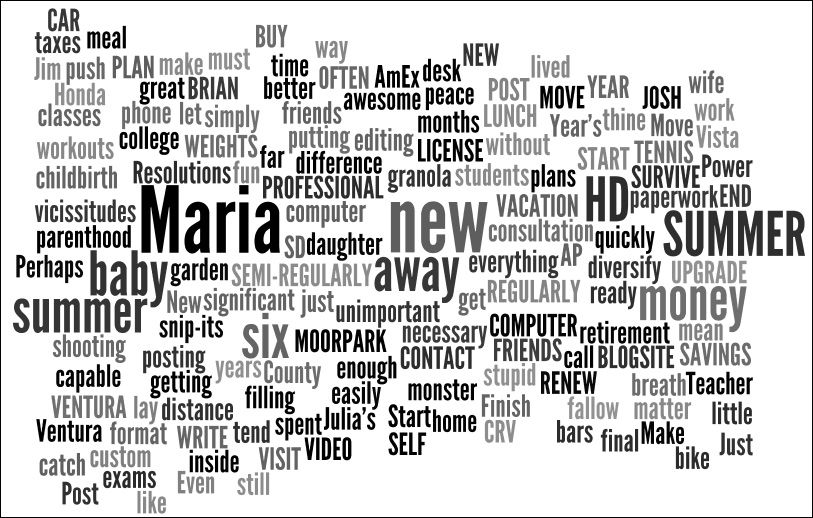 YEAR OF 2007
SURVIVE UNTIL SUMMER VACATION!


Finish out my monster AmEx classes through final and AP exams, childbirth and new parenthood - and then you can catch your breath all summer and be at home with your baby daughter and wife!

STATUS: I survived, but it was uglier than I thought it would be. Took me half the summer to recover my health.
WRITE FOR SELF SEMI-REGULARLY

Teacher, tend to thine own garden!

STATUS: This was a smashing success. I cut and crimped my time here and there, but I sat down and wrote a lot last year.

CONTACT FRIENDS MORE REGULARLY

Even a phone call when they are far away to push away the distance and vicissitudes of time can make all the difference.

STATUS: This modified success.

UPGRADE COMPUTER

Move to Vista and a new, custom computer in summer in consultation with Jim.

STATUS: A success. Bought parts from Newegg with expert help and assembled computer from scratch: kick-butt video card, two RAIDs, seven internal hard drives, and water-cooled quad-core processor: total success. (But shunned Vista and decided to stay with XP until last possible moment -- a good call!)

MOVE FROM SD TO HD VIDEO
Make your peace with the new, awesome HD format for shooting and editing.

STATUS: A smashing success, although it will take years for HD burners and HD media to make it to the consumer. Bottom line: I have hours and hours of HD video of baby daughter -- and this will be a smashing success that pays dividends years and years from now. My experience out on the "bleeding edge" of technology was an expensive success.
You spent significant money getting everything ready, so why let it lay fallow? The bike is great fun and all, but diversify your workouts. It is simply a matter of will.

STATUS: Total failure.
LUNCH

There must be some way I can quickly and easily get a filling meal inside me while at work! Power and granola bars at my desk are just not enough...

STATUS: Total failure.

START A 457 AND 529 SAVINGS PLAN

Start plans for putting money before taxes for Julia's college and our retirement.

STATUS: At least I got the ball rolling...

BUY NEW CAR AT END OF SUMMER

Perhaps a Honda CRV that is more baby capable?

STATUS: Done!

POST TO BLOGSITE MORE OFTEN

Post little snip-its, like my students do, if necessary; it is better than six months without a posting.

STATUS: This was a smashing success. Very great sense of fulfillment!

VISIT BRIAN IN MOORPARK AND JOSH IN VENTURA
Why have you lived here for six years and still have no friends in Ventura County?

STATUS: Not great on this one but not a total failure.

RENEW PROFESSIONAL LICENSE

Just because it is stupid paperwork does not mean it is unimportant.

STATUS: Done.

MAKE SOME KIND OF DENT IN THE "TO READ" BOOK PILE --
"Harlan County" (Only watched first installment -- too depressing!)
"The Farmer's Wife" (Only watched first installment -- too depressing!)
"Philadelphia" There is much to mine here! Watch this film again carefully.
"Sexy Beast" (Viewed)
"The Lives of Others" (Viewed)
"Syriana" (Viewed)
"Flags of Our Fathers" and "Letters From Iwo Jima" (Viewed)
"So Goes the Nation" (Viewed)
"Half Nelson" (Viewed)
"La Sierra" (Viewed)
"The Departed" (Viewed)
"Blood Diamond" (Viewed)
"Cvilization" series with Ken Clark (Viewed entire thing)
"Dopamine" (Viewed)
"Au Revoir Les Enfants" (Viewed)
"Children of Men" (Viewed)
"Babel" (Viewed)
"The Pursuit of Happyness" (Viewed)
"The History Boys" (Viewed)

NEW YEAR'S RESOLUTIONS:
---


Back to About the Author Page