"Music is the art of thinking with sounds." — Jules Combarieu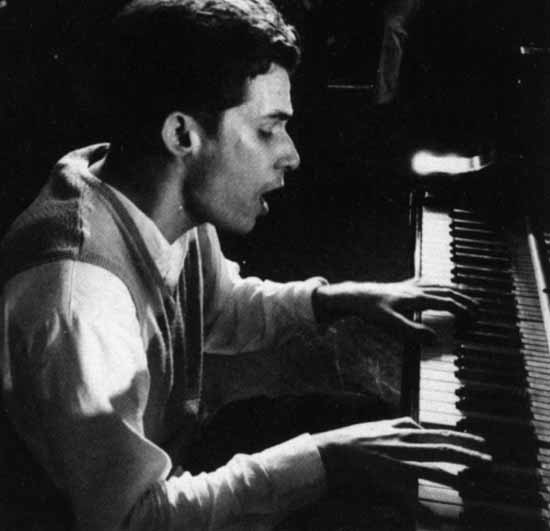 Glenn Gould (above) plays his famous recordings  of "The Goldberg Variations" by J.S. Bach (watch video; et al).
"Of all noises, I think music is the least disagreeable."
Samuel Johnson
---
If I were stranded on a desert island with access to only 20 pieces of music, these are the selections I would choose:
Concerto for 2 Pianos in E Flat, KV 365 by W.A. Mozart. This charming and sophisticated piece serves to remind us that despite everything there still exists beauty and intelligence in the world. Check out Mitsuko Uchida and her ebullient interpretation with Alfred Brendel and The Academy of St. Martin-in-the-Fields on the Philips Label.

Brandenburg Concertos No. 2 and 3 in G Major, BMV 1047-1048, by J.S. Bach. Selected to be broadcast into space on the Voyager spacecraft traveling through the galaxy, this seems to me a perfect example of the genius of the human spirit to be presented to other worlds. The concerto no. 3 has been a favorite of mine since early childhood, and I like the Raymond Leppard's version with its distinct thoroughly developed middle movement.

Piano Concerto No. 20 in D Minor, KV 466 by W.A. Mozart. A dark and swirling roller coaster ride that seems no less fresh after repeated listenings. I like Alfred Brendel's cadenza in the middle of the first movement on his recording with The St. Martin-in-the-Fields recording in the "Play by Play" version produced by PolyGram Records. Unlike many of my friends, I am ignorant (self-taught) in music, but I would try to express in my writing (if possible!) what my soul feels when listening to Mozart.

Well-Tempered Clavier, Books I and II by J.S. Bach. When talking about classical music, it all really begins with the work of Johann Sebastian Bach. In my opinion, these series of preludes and fugues in each of the major and minor chords are as close to perfection as you will find in music. I enjoy the strict literal playing of Keith Jarrett or Rosalyn Tureck as well as the intellectual meanderings of Edward Aldwell. However, one does not truly appreciate Bach on the keyboard unless one hears it done by the master Glenn Gould.

Requiem, KV 626 by W.A. Mozart. In listening to this funeral music one feels as if they too were facing the hooded specter of death in the final moments of life. Towering and majestic, the intensity and profundity of Mozart's "Requiem" is perhaps matched only by the darker moments of Bach's "Mass in B Minor" in the classical repertoire. As much now as during the first exposure, in listening to the "Requiem" I feel as if I were looking my own mortality in the face. How can the same man who wrote Eine Kleine Nachtmusik have written this lamentation?

Concerto for Piano and Orchestra in A Minor, Op. 54 by Robert Schumann. This concerto has always reminded me of the musical optimism and prolific creativity which was Vienna in the middle of the Romantic nineteenth century. Written just before his final mental breakdown, I have always marveled at the irony of this carefree and happy instance of music.

Piano Concerto No. 3 C Minor, Op. 37 by Ludwig van Beethoven. The music storms and thunders for over two minutes before the piano even sounds, and then the tempo only increases — the restless, aggressive spirit of Beethoven flashing across the score as piano and orchestra argue back and forth vigorously. The music attacks and then retreats, a darkly anxious dialogue between two voices alternately probing and relenting. Beethoven's brooding spiritual distress and considerable concentration of emotion are well on display here, the Classical forms giving way to Romantic will. Check out John Eliot Gardiner and his Orchestre Révolutionnaire et Romantique's edgy interpretation with pianist Robert Levin playing Beethoven as it should be done: like an "angry dog with a bone."

Variations Serieuses, Op. 54 by Felix Mendelssohn. I heard this one morning on a classical radio station and bought the CD later that afternoon. It is, in my opinion, as fully developed and brilliant as any of the Beethoven piano sonatas. Check out the dazzle of Murray Perahia in his version recorded for the CBS Records Masterworks Series.

Piano Concerto No. 2 in C Minor, Op. 18 by Sergei Rachmaninoff. It may be a little sugary sweet, but the romantic in me has always had a sweet spot for this emotionally drenched piece of Slavic lyricism. Only the most cynical or cold-hearted will refuse to be moved by the middle movement lamenting, "If you do not come back to me…."

The Messiah by G.F. Handel. A monster of a thing, Handel's masterpiece never fails to surprise. I enjoy it for the brilliance not so much of its often played "Hallelujah" chorus but for the more compact gems like the opening Synfonia, And He Shall Purify, His Yoke is Easy, "Thou Are Gone Up on High," or "Thou Shalt Break Them."

Concerto for Piano and Orchestra in A Minor, Op. 16 by Edvard Grieg. A piano lover's piano concerto, this piece by the "Chopin of the North" is both glib and sublime, optimistic and grandiose in the beginning and end, wistfully sad in the middle. It is not for nothing that they always play it on the radio.

Slavonic Dances, Op. 72 by Antonín Dvorák. The breathtakingly beautiful folk melodies of Central Europe come to life in these pastoral sketches, so artfully and lavishly painted by Dvorák. I dare you to listen to dances No. 10 and No. 16 in E Minor and A Flat Major and not feel imbued with the heaviness and raw splendor of this world. This is music for those who dwell close to the pulsing, blood-red heart of life lived passionately.

"Prelude and Liebestod" from Tristan and Isolde by Richard Wagner. Mark Twain famously claimed that Wagner's music is "really not as bad as it sounds." This is disingenuous but insightful advice, as Wagner's music is — in all its verbosity and lugubriousness — an acquired taste requiring patience and perseverance. But it is very much worth the effort, as perhaps no other composer has created music as finely wrought in emotional intensity, in my humble opinion. Wagner reaches for the stars in his unmitigated artistic ambition to make music poetically sublime; and often enough he comes very close (in moments of the Overture to Tannhäuser, for example). For me, to sit quietly and to listen intensely to Wagner's best music for more than twenty minutes uninterrupted is to be brought nearly to tears! Let the magic of the "Siegfried-Idyll" sneak up and transfix you, Eros and Thanatos grappling mightily in the ether — and inside of your breast vicariously as well, hope and despair and the remembrance of things past struggling for dominion over your soul.

The Four Seasons, Op. 8, by Antonio Vivaldi. The feisty Italian spirit shines forth in these variegated concertos authored by the "Red Priest." Elucidating the gamut of human emotions metaphorically from the exuberance of spring to the mania of summer and decay and death of pendulous winter, the razzle and dazzle of Vivaldi enchants and transfixes from beginning to end.

Music for the Death of Queen Mary, Z. 860A by Henry Purcell. Bracingly sober passages from an age when music was the Word made manifest through sound, Purcell reminds us piously that "in the midst of life we are in death." Heartfelt, haunting harmonies from which to think deep thoughts about mortality and meaning. I enjoy the recording made by Philippe Herreweghe and the Collegium Vocale under the Harmonia Mundi label.

Concertos for Clarinet in A, KV 622 and 581 by W.A. Mozart. Written for his good friend the clarinetist Anton Stadler, Mozart here gives free reign to his joy in creation and freedom in conception. When I feel disappointed, disjointed, and spiritually bruised in general, this is the music to which I turn. The soothing tones of the clarinet wash over me, and I come away feeling better about myself, the world, and my place therein. A faithful cordial for winter nights when the wind is sharp and the world hard and threatening, the intimacy of Mozart's voice brings me to a place where all is peace and calm.

Manfred Overture, Op. 115 by Robert Schumann. The son of a bookseller and a savvy reader himself, Schumann's music transports the listener high into the mountain peaks of the Swiss Alps to Manfred's castle where the prototypical Byronic hero proudly dares the powers of the world to defy him. There amidst the swirling mists and avenging ghosts, Schumann lets us watch Lord Byron's romantic rebel assume the burden of his own doom. Suffering from insomnia and intense anxiety at the time of its writing, I wonder how much of Schumann himself is projected into this eerily mysterious instance of violent, tortured mood swings. This overture is yet another reminder that all art aspires towards the condition of music.

6 Concerti Grossi, Op. 3 by G.F. Handel. The transplanted German–cum-Londoner Handel's more mature orchestral works symbolize for me all that was cosmopolitan and urbane about 18th century England: James Boswell, Edmund Burke, Sir Joshua Reynolds, Samuel Johnson, David Garrick, Edward Gibbon. In the bluster and fury of our scientific and technological era, have we killed forever such subtlety and intelligence? I particularly appreciate the directing of Christopher Hogwood and the Academy of Ancient Music under the L'Oiseau Lyre label.

Concerto for Piano No. 5 in E Minor, Op. 16 by Ludwig van Beethoven. Not a man to think small, Beethoven in the "Emperor Concerto" presages his 9th Symphony in this grandiose, sweeping monument to piano music. Harmony, suspense, driving power, thematic unity — they all sweep you up in this fantasy-ridden drama with the famously triumphant concluding passages which for me symbolizes the nobility of character and heroic strength of will required to prevail in Napoleonic Europe. In his unprecedented, completely original music, Beethoven signals there is no going back to the limited, controlled classical forms of the 18th century handed down by Mozart and Haydn, as the Western mind bubbles forth aggressively and graspingly with consequences both good and ill. Check out the grandeur of Daniel Barenboim in the Deutsche Grammophon recording.

Piano Concerto No. 15 in B Flat, KV 450 by W.A. Mozart. A fine instance of the charm and sophistication that makes Mozart so justifiably famous, this music offers us a glimpse beyond the drab work-a-day world into a parallel universe where beauty is truth, and truth beauty — intimations of immortality made accessible through art. Without such achievements by our species, the world for me would be infinitely more dreary and depressing — a place in which I would not wish to live!

In the Bible the afflicted Job laments thusly: "Man, born of woman, is shortlived and full of trouble. Like a flower that springs up and fades, swift as a shadow that does not abide, even so he wastes away like a rotten thing; like a garment that the moth has consumed." This is untrue – or, at least, it is not always true! Take, for example, Mozart's piano concertos and Shakespeare's love sonnets as evidence to the contrary… these sparkling crown jewels of human artistry: they are indispensable to my metaphysic — personal reminders that all is not lost, that we human beings do offer moments of sparkling brilliance and god-like perfection. They disprove the idea that we Homo sapiens are merely beasts capable of stunning cruelty, or frail creatures fated to live our brief moment under the sun and then die, leaving no trace after us. "Men are not animals erect," claimed Francis Bacon, "but gods immortal." Men have died, and then worms have eaten their bodies; but the best sounds and the best ideas of all of us live on forever. Yes, perceptive reader, it is sound as anti-depressant. And not only for me and my own life, but for me with regards to my species.

I enjoy very much the pianist Andras Schiff, an artist who can play Mozart's music unadorned by superfluous commentary — letting it shine in all its original, unadulterated luster, so that I may more closely approach the genius which strengthens in me the conviction that life is good and worth living — music for the ages.

---

"SONNET"
by Elizabeth Bishop

I am in need of music that would flow
Over my fretful, feeling finger-tips,
Over my bitter-tainted, trembling lips,
With melody, deep, clear, and liquid-slow.
Oh, for the healing swaying, old and low,
Of some song sung to rest the tired dead,
A song to fall like water on my head,
And over quivering limbs, dream flushed to glow!

There is a magic made by melody:
A spell of rest, and quiet breath, and cool
Heart, that sinks through fading colors deep
To the subaqueous stillness of the sea,
And floats forever in a moon-green pool,
Held in the arms of rhythm and of sleep.

---