A BLISSFUL AFTERNOON: A PHOTO ESSAY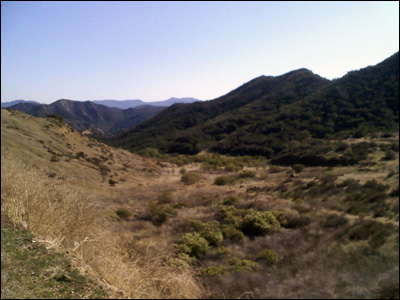 "Oh, how I love to escape to the Malibu canyons for a bike ride!."
In the late morning of November 15, 2009 I drove to the Malibu canyons to ride along the Santa Monica Mountains. It has been a long time since I had been here.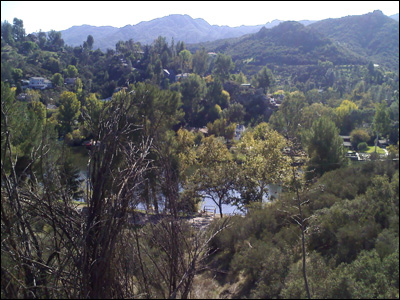 Before marriage and larger life responsibilities, I used to escape to these canyons above Malibu for looong bike rides just about every weekend! Even as they physically exhausted – and even traumatized – me, they were spiritually relaxing and restorative. Here again for the first time in a year or two, the effect is the same.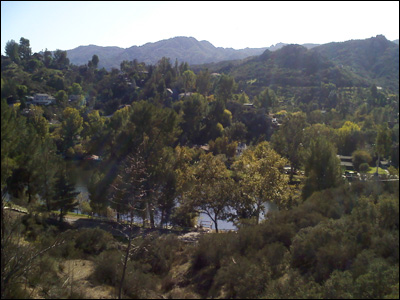 Above is a view of Malibu Lake from Mulholland Highway.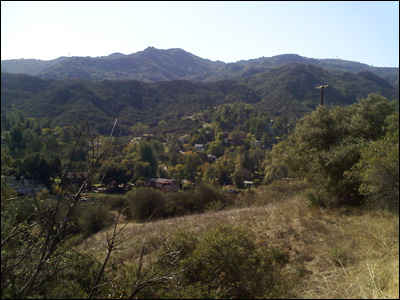 Just hills and sage brush and trees and sun: the way Southern California should be. And it is oh so quiet here…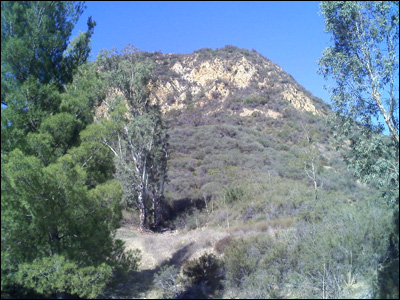 The desert landscape here goes more horizontal than vertical.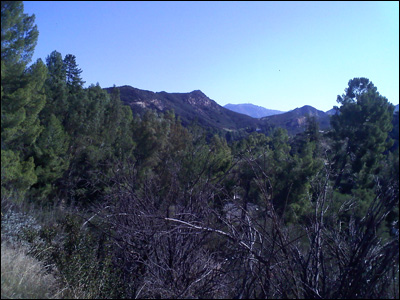 A few miles or so straight ahead and then the Santa Monica Mountains plunge straight down into the Pacific Ocean and the beach. I have ridden pretty all these canyons with much exertion and pleasure.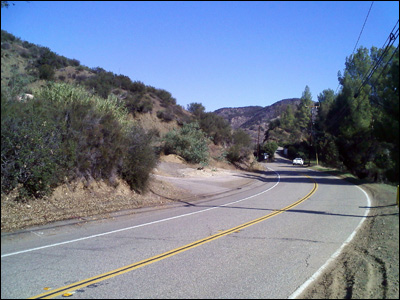 Groups of portly, hirsute Harley Davidson motorcyclists come blowing by me at high speed on these lonely roads: I look them and think, "Get off your motorcycle and get some exercise, you beer-sodden lazybones!" and they look at me and think, "What the hell is this guy doing out here in the middle of nowhere on a bicycle?" — and after a moment's recognition, we blow by each other going in opposite directions.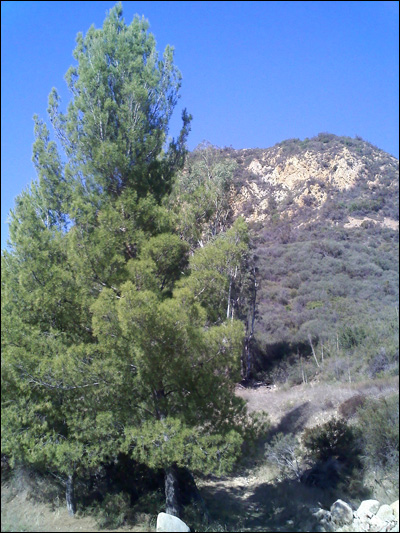 Strange how even as I cannot make it out to these canyons to ride so much anymore, my body has a very accurate memory of the various hills: pain is an effective and enduring teacher to one's muscles.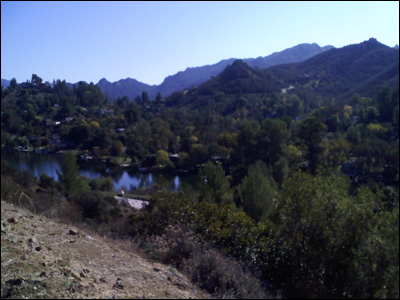 I apologize for the low quality of this picture, as by necessity I am using my cell phone camera.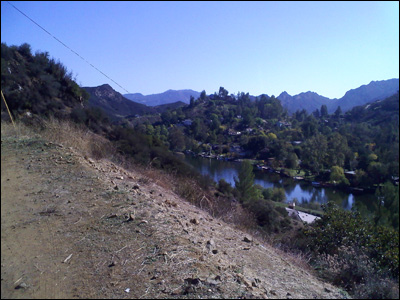 Some dozen miles beyond this mountain range lies Pacific Palisades and Santa Monica, California.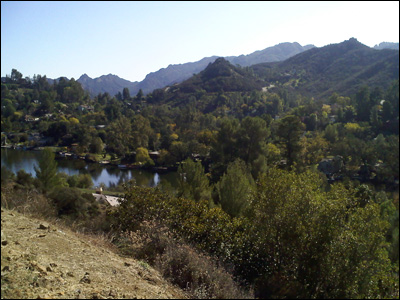 A verdant view of Lake Malibu.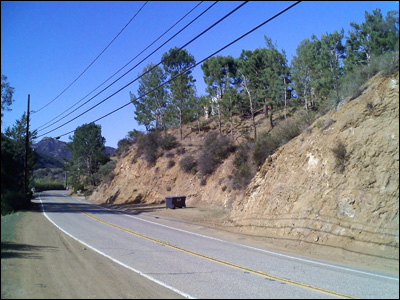 Around this corner a clump of young men riding their high-performance "rice rocket" motorcycles passed by me going waaaay too fast. These canyons often witness a cat-and-mouse game between motorcyclists and police, and numerous times I have ridden by accident scenes with ambulance on scene where some motorcyclist took a turn too fast and went off the road.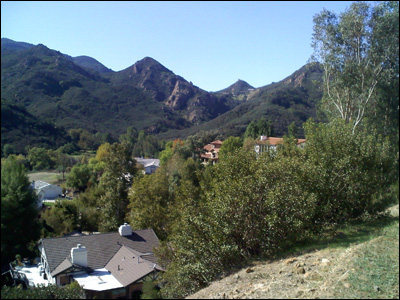 A few luxury homes ring Malibu Lake for those who can afford them. A beautiful place to live, but for everyday life does one want to live so far removed from civilization — reminds me of the year I lived near Thatcher School in Ojai!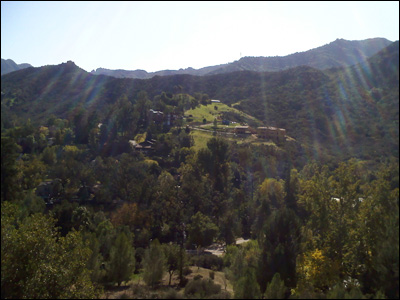 Light from the sun gives this photo an appropriate aura of rays of lights permeating the valley.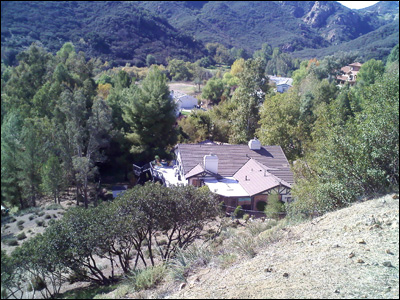 Yes, there is all sort of trees and brush, but this desert terrain is almost always bone-dry — which makes this area very susceptible to "fire storms" that can cover mile after miles of canyon and threaten homes and inhabitants.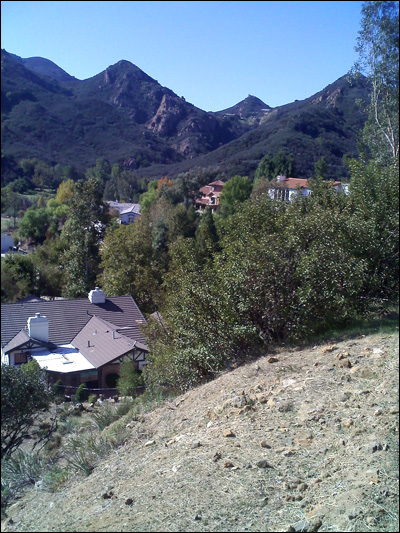 If one travels about five miles in that direction, one will arrive at Leo Carrillo State Beach in Northern Malibu — approaching the Ventura County border.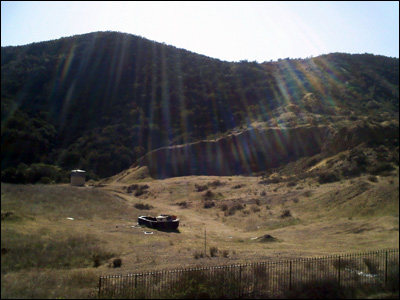 Off Kanan Road near Agoura Hills, the older brother of Jim Glantz lives not far from here…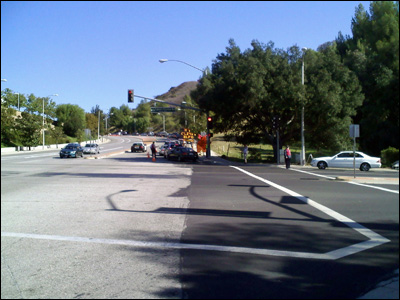 Much to my surprise, towards the end of my bike ride there were hundreds and hundreds of cars lined up for almost a mile to get
a Swine Flu H1N1 vaccine shot
in Calabasas.
Wow!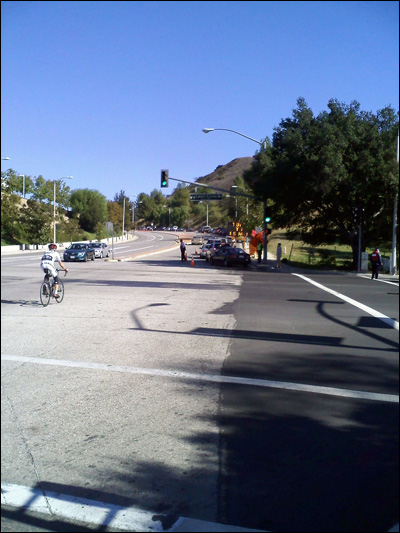 From what I could tell, there were all trying to get to the Los Angeles County Sheriff's Dept. Malibu/Lost Hills Station which is just beyond the top of this hill on Agoura Road.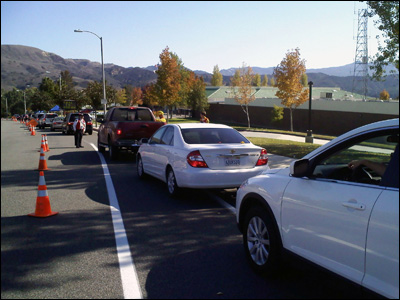 Finally, I arrived to see the above scene.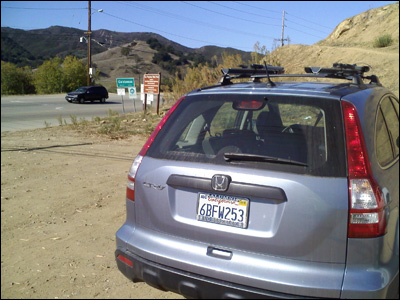 Finally, back to my car on the edge of the Malibu Creek State Park!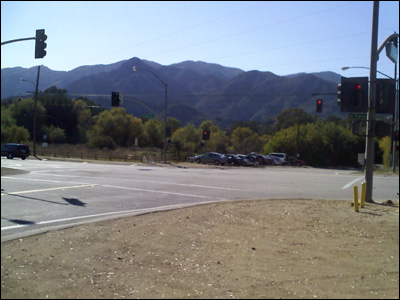 The intersection of Las Virgenes Road and Mulholland Highway: very crowded with cars, mostly of day hikers taking off into the state park beyond.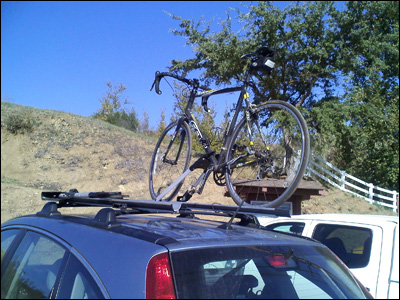 Bike safely secured to my car, I take off for a big lunch in Woodland Hills. I sit there in the warmth of the San Fernando Valley and leisurely read for three hours 200 pages of David Walker Howe's "What Hath God Wrought: The Transformation of America, 1815-1848." All stress has left me.
After a great workout, beautiful scenes of nature, a hearty meal, and a relaxing read (all done in perfect solitude), I am ready to return to my regular life and responsibilities.
A RELAXED BODY, FULL STOMACH, AND ENGAGED MIND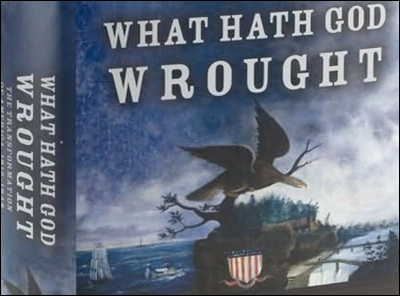 David Walker Howe's "What Hath God Wrought: The Transformation of America, 1815-1848"