ASSASSINATION SERVES THE CAUSE OF DISCORD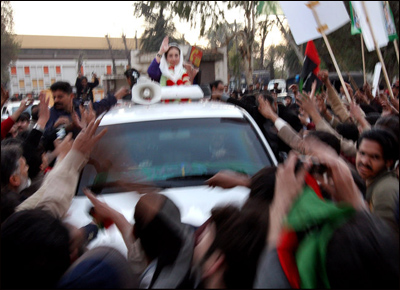 "Someone shot Bhutto in the neck and chest, initial news reports claimed, and then the assassin blew himself up."
DECEMBER 27, 2007 at 6:47 a.m.
An unquiet mind drove me from my bed this morning.
An acute personal disappointment of the previous day, and then brooding and anger over the War in Iraq and disappointment with George W. Bush and the Republican Party (and the direction of my country in general), turned over and over in my mind in the darkness after I woke up around 4 a.m. For two hours in the pre-dawn darkness I "knitted the old knot of contrariety" and tossed and turned uneasily in bed, unable to fall back asleep.
Finally, I gave up. I got out of bed, put on my clothes, and exited
my hotel
. It was cold and quiet outside.
If I could not sleep, I might as well get up and read the newspaper and eat a light breakfast,
I told myself.
Anything was better than this tossing and turning in bed.
So a little after six in the morning I got in my car, turned on the radio, and heard the news of
the assassination of opposition politician Benazir Bhutto in Pakistan
. Already taut in mood and anxious in spirit, my reaction to the news was immediate. I felt sheer disgust, mixed with weariness and contempt; the former I felt in my heart, the latter in my mind.
Someone
shot Bhutto in the neck and chest
, initial news reports claimed, and then the assassin blew himself up.
The attack sounds like the usual Islamist handiwork,
I thought to myself. But knowledgeable commentators explained that, due to the opaque nature of Pakistani politics, we may never know who was responsible for her murder. Pakistani intelligence agencies might have been responsible, I was told. It could be any of a long list of murky villains in that nation.
Jesus.
What an incredibly fucked up country in an incredibly fucked up part of the world!
I fume.
I sit here watching a flat screen TV at the local McDonald's with CNN reports of the unraveling crisis in front of me. I observe graphic live video of Pakistani cities
erupting in riots
. For all the world it seems to me like more
senseless violence
. To whom are
these Pakistanis
directing their ire? Does anyone yet know who is to blame? What is the point of this? How does this rioting improve an already horrible situation? My heart sinks; my head recoils.
I am struck by the desire to sit in silence and listen softly to J.S. Bach's
English Suites
. In Bach one always finds renewed clarity and
self-possession
. Quiet and introspection are called for now, not noise and violence.
The world is very far from well.
Oh, we human beings, what scoundrels we are!
By the time I write these lines the sun had come up. I sit here watching Pakistanis set fire to cars in Karachi and rush hither and thither
beating their chests and crying in rage and frustration
: the
fires from this political murder
will burn for weeks, if not months and years. Then I look outside and the new day's light cheers me. There seems hope. With the dawn the insupportable becomes supportable. Hope struggles on, despite the evidence. What else can we do?
We humans, so compromised and so wicked, shall muddle through another day,
I say to myself.
I exit the McDonald's and "must endure the timid sun" as I head back to my hotel and another day.
We do the best we can with what we have.
RAGE AND FRUSTRATION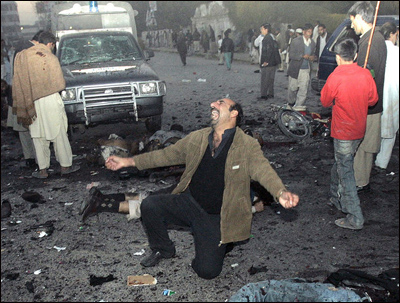 "The world is very far from well."