Rich Geib's 2013 New Year's Resolutions!

"Perseverance is not a long race; it is many short races one after the other."
Walter Elliot
---
New Year's Resolutions for 2013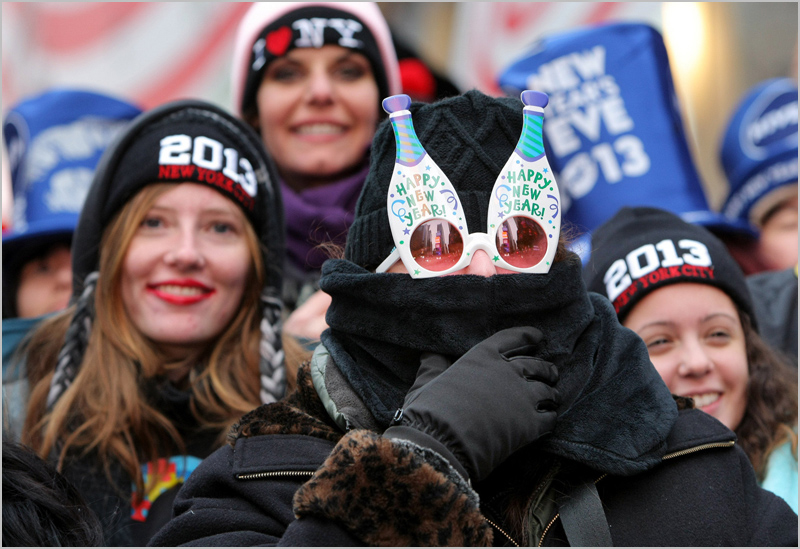 Celebrants await the start of the new year in Times Square in New York City on December 31, 2012.
---

---
Rich Geib's 2013 New Year's Resolutions
What should I do? Where to go? How to live?
---
"Porpoise Club" at Pierpont Racquet Club

Finish strong at end of February, have swum fifty miles in twelve months, and get your name on the plaque at the club. It might be a relatively weak sport for you, and you might do it just to get in better shape for other sports, but it is a goal you have worked assiduously towards three or so times a week for ten months. Complete the challenge, enjoy the victory, and move on to the next challenge!
STATUS: Success! Although I don't want to swim again like that for a long time… Got my name on the plaque for my daughters to see and that was partly the point of the endeavor.

Streamline swims and place them in a subsidiary position relative to overall fitness

Without feeling like you "have to" four times per week, swim more intensely for shorter periods of time with no rest, using a kick turn. Compressed workouts with higher intensity without the feeling of obligation. Fill in the time with workouts that are new to you and your body.
STATUS: It served a purpose at a certain time in life. But now to the main event: tennis. At least four times a week (but that will hurt body and result in injury).

Play my music LOUDLY more often

You bought and installed a wonderful sound system that heretofore almost never gets used at more than a fraction of what is capable of…. and why? You used to spend hours and hours listening to a section of Mozart or Dokken or whatever over and over again LOUD, and you so much enjoyed it. Then you had kids and did not want to wake babies or antagonize wife. But now that the children are no longer babies, why not blast your music again? Becoming a parent does not inexorably mean to lose oneself: to sublimate one's interests and hobbies to others. Use music to link your pre-children to post-children life in yet one another way.
STATUS: Pretty much a failure. I need to impose on other family members. They can put up with it.
Consolidate fitness and getting hurt and much better recovery

Progressive overload your body until you have a certain fitness baseline that you can trust — do not skirt so often the line between hard and challenging exercise and working out to the point of injury. And remember November and December are (for some reason) traditionally the overuse injury months, and so try to getting hurt by being mindful, listening to your body, and resting and recovering when needed. Train smarter by looking at entire calendar year.
STATUS: Failure. Too much tennis and injury; on the other hand, significant tennis improvement. Listen to your body and what pain is telling you, vary your demands on body through cross training, and make it more sustainable and less injurious. Vigorous exercise is a major joy in your life; worrying and dealing with injury a medium drain on life. How to fix this balance more towards joy and less to worry and pain.
Take many more pictures and video of daughters

It only takes a few moments from an admittedly busy life, but those few moments will blossom large in the future when throw-away moments of the here and now take on the tint of nostalgia and become the historical record.
STATUS: Failure. I suck. So busy…
Watch Federer and Djokovic play tennis from twenty feet away

Travel to Indian Wells in February with father and watch best in world on the practice courts. You need to see them hit with your own eyes, and you need to be spitting distance from them as you do so. You need only do this once and never again.
STATUS: Success! Seeing Djokovic play from third row seats at Pauley Pavillion a real treat and learning experience. I got to see almost from arm's distance what world class tennis looks like. (On the other hand, such a close look has limited usefulness for my own tennis game, seeing that they play almost an entirely different sport than me.)
Start reading the New York Review of Books again.

Now that you are emerging from the trauma of raising babies who have since become toddlers and little girls, and now that the NYRB editors/cognoscenti have probably moved beyond their disordered/obsessive hatred of George W. Bush and the Iraq War, it is time to subscribe to and enjoy the New York Review of Books again – just like during earlier epochs of life.
STATUS: Failure. The often arcane and "academic" nature of many of these erudite articles was simply not worth my precious time in a busy stage of life. I used to care and have enough time to read 3,000 words about the childhood of Jean Jacques Rousseau. Now I do not (or I will not make, in practice, make the time). Maybe later in life when I am retired but for now the value (in pleasure and enrichment) is not worth the cost (in time and effort).
Go deep in 4.0 club doubles tournament with Chris.

Make up for your execrable performance in 2012 in said tournament. Doesn't matter if you win or not. It does matter that you play and compete well.
STATUS: Succes! Although this was mostly due to Chris and his excellence performance. A real joy was November 23, 2013.

Print out George Orwell quote and place it prominently next to desk at work.

On a daily basis read and reflect on this quote –"To see what is in front of one's nose needs a constant struggle." — and how it applies to your life.
STATUS: It was there. I did not forget it. But I did not think on it much.

Lights out around 10:15 — 10:30 at the latest.

Learn from Katie and the importance of eight or so hours in terms of injury recovery/prevention.
STATUS: Slept pretty well this year, much thanks to heavy workouts.
Get some quality challenging singles matches to complement social doubles.

Play Frank and Shyam, and others, on a semi-routine basis. Play people better than you, lose to them, and improve.
STATUS: Semi-succes. More ensconced in the tennis circles of the area. Need to find what is best for me at my age. Competitive tennis for middle-aged men.
Make a dent in the cologne in my medicine cabinet.
You have tons of nice cologne and have rarely used it. Use it — Maria likes it.
STATUS: Succes. Keep doing it.
Make some kind of dent in the "to read" book pile —
Here is the lineup at this time:
"Mindset: A Mental Guide for Sport," by Jackie Reardon (DID READ)
"Absalom! Absalom!" by William Faulkner (DID READ)
"Mornings on Horseback" by David McCullough (DID NOT READ)
"A Feast for Crows" by George R.R. Martin (DID READ)
"A Dance With Dragons" by George R.R. Martin (DID READ)
"A Paper Life" by Tatum O'Neal (DID READ)
"You Cannot Be Serious" by John McEnroe (DID READ)
"Bad News for McEnroe: Blood, Sweat, and Backhands with John, Jimmy, Ilie, Ivan, Bjorn, and Vitas" by Bill Scanlon (DID READ)
"The Unwinding: An Inner History of the New America" by George Packer (DID READ)
"The Brief Wonderous Life of Oscar Wao" by Junot Díaz (DID NOT READ)
"The Handmaid's Tale" by Margaret Atwood (DID NOT READ)
"Life of Pi" by Yann Martel (DID READ)
"Hawaii: A Novel" by James Michener (DID NOT READ)
"Tales of the South Pacific" by James Michener (DID NOT READ)
"Pilates' Return to Life Through Contrology" by Joseph H. Pilates and William Miller (DID READ)
"A Handful of Summers" by Gordon Forbes (DID READ)
"The People of the Abyss" by Jack London (DID NOT READ)
"The Outsider: A Memoir" by Jimmy Connors (DID READ)
"Slow Man" by J.M. Coetzee (DID READ)
"The Cheating Culture: Why More Americans Are Doing" (DID READ)
"The Tattooed Soldier" by Héctor Tobar (DID READ)
"My Life" by Bill Clinton (DID READ)
"Championship Tennis" by Frank Giampaolo (DID READ)
"Freakonomics: A Rogue Economist Explores the Hidden Side of Everything (P.S.)" by by Steven D. Levitt (DID READ)
"Pain Free: A Revolutionary Method for Stopping Chronic Pain" by Pete Egoscue (DID READ)
"The Path Between the Seas" by David McCullough (DID NOT READ)
"Poser: My Life in Twenty-three Yoga Poses" by Claire Dederer (DID READ)
"The Sense of an Ending" by Julian Barnes (DID READ)
"Breaking Back: How I Lost Everything and Won Back My Life" by James Blake (DID READ)
"The Boy of the Painted Cave" by Max Brooks (DID READ)
"Why I Left Goldman Sachs: A Wall Street Story" by Greg Smith (DID READ)
"Lucky Man" by Michael J. Fox (DID READ)
"Bioethics: A Primer for Christians" by Gilbert Meilaender (DID READ)
"Mortality" by Christopher Hitchens (DID READ)
"Break Point: The Secret Diary of a Pro Tennis Player" by Vince Spadea (DID READ)
"The Guns at Last Light" by Rick Atkinson (DID READ)
Serve to Win: The 14-Day Gluten-Free Plan for Physical and Mental Excellence by Novak Djokovic (DID READ)
Make some kind of dent in the Netflix queue —
12 Years a Slave (VIEWED)
The Gatekeepers (VIEWED)
World War Z (VIEWED)
The Great Gatsby (VIEWED)
Amour (VIEWED)
Mud (VIEWED)
The Place Beyond the Pines (VIEWED)
Chimpanzee (VIEWED)
Rust and Bone (VIEWED)
Life of Pi (VIEWED)
Lincoln (VIEWED)
Argo (VIEWED)
"Lincoln" (VIEWED)
"The Hobbit: An Unexpected Journey" (VIEWED)
"End of Watch" (VIEWED)
"Zero Dark Thirty" (VIEWED)
"Tears of Gaza" (DID NOT VIEW)
"Skyfall" (VIEWED)
"Rust and Bone" (VIEWED)
"56 Up" (DID NOT VIEW)
"The East" (DID NOT VIEW)
"Brooklyn Castle" (VIEWED)
"Mud" (VIEWED)
"The Impossible" (VIEWED)
"The Law in These Parts" (VIEWED)
"This is 40" (VIEWED)
"Young Adult" (VIEWED)
"Silver Linings Playbook" (VIEWED)
"Amour" (VIEWED)
"The Intouchables" (DID NOT VIEW)
"Whores Glory" (VIEWED)
"Friends With Kids" (DID NOT VIEW)
"The Wild and Wonderful Whites of West Virginia" (VIEWED)
"Life of Pi" (VIEWED)
"High Ground" (DID NOT VIEW)
"Brooklyn Castle" (VIEWED)
"Smashed" (DID NOT VIEW)
"Cloud Atlas" (DID NOT VIEW)
"Pacific Rim" (DID NOT VIEW)
"Before Midnight" (DID NOT VIEW)
"Star Trek Into Darkness" (VIEWED)
"Man of Steel" (DID NOT VIEW)
"Anna Karenina" (DID NOT VIEW)
"Argo" (VIEWED)
"Flight" (VIEWED)
"The Master" (VIEWED)
"Ted" (DID NOT VIEW)
"In the Fog" (DID NOT VIEW)
"Caesar Must Die" (DID NOT VIEW)
"Much Ado About Nothing" (DID NOT VIEW)
"Girl in Progress" (DID NOT VIEW)
"The Dark Knight Rises" (VIEWED)
"Arbitrage" (VIEWED)
"Trouble With the Curve" (VIEWED)
"10 Years" (DID NOT VIEW)
"Hope Springs" (DID NOT VIEW)
"The Portrait of a Lady" (DID NOT VIEW)
"Transcendant Man" (VIEWED)
"Beasts of the Southern Wild" (VIEWED)