"Those who expect to reap the blessings of liberty must,
like men, undergo the fatigue of supporting it."
Thomas Paine
---

Frank Draper, Jr.

---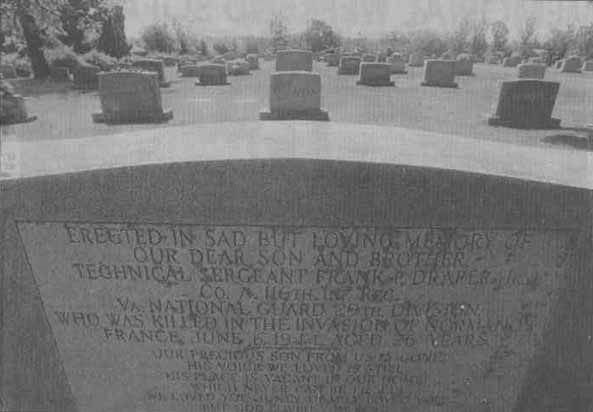 ---
ERECTED IN SAD BUT LOVING MEMORY OF
OUR DEAR SON AND BROTHER
TECHNICAL SERGEANT FRANK DRAPER, JR.
CO. A 116TH INF. REG.
VA. NATIONAL GUARD 29TH DIVISION
WHO WAS KILLED IN THE INVASION OF NORMANDY,
FRANCE JUNE 6, 1944, AGED 26 YEARS.
OUR PRECIOUS SON FROM US IS GONE
HIS VOICE WE LOVED IS STILL
HIS PLACE IS VACANT IN OUR HOME
WHICH NEVER CAN BE FILLED.
WE LOVED YOU JUNEY, DEARLY LOVED YOU
BUT GOD LOVED YOU BEST.
---

&nbsp&nbsp&nbsp&nbsp&nbsp U.S. Army Technical Sergeant Frank Draper, Jr. and his fellow soldiers of Company A, 116th Infantry Regiment of the "blue and gray" 29th Division landed on the beaches of Normandy early on June 6, 1944 in the largest amphibious assault in the history of man. By the end of the day he was dead, killed in combat near the seaside caves of Vierville-sur-Mer, France. He was 26 years old.

&nbsp&nbsp&nbsp&nbsp&nbsp His death devastated his family. His father, Frank P. Draper, Sr. of tiny Bedford, Virgina (pop. 3,400), built a large stone monument for the grave of his son Frank Jr. ("Juney") that alludes to the desolation of a broken heart: "We loved you Juney, dearly loved you, but God loved you best." Frank, Sr. was later to take his own life, and now lies buried next to the son he gave for the liberation of France. We can only speculate how much of the joy went out of Frank, Sr.'s life when he received the news that his son was dead on a beach half-a-world away. The violence itself is one thing, the living with the consequences and repercussions quite another.

&nbsp&nbsp&nbsp&nbsp&nbsp The defeat of Nazi Germany by Allied military forces is one of the great achievements of modern times, in my opinion. An epic feat of planning, execution, and heroism, D-Day will be remember as long as men and women cherish the past.

D-Day, A German Private's View
June 6, 1944
"And when the sun rose the next morning, I saw the invasion fleet lying off the shore. Ship beside ship. And without a break, troops, weapons, tanks, munitions and vehicles were being unloaded in a steady stream."

"The Kids Who Changed the World"
by Stephen Ambrose
"They were unimaginably young, exchanging high school for the horrors of war. These are the soldiers' stories."

But let us not forget in our adulations of great men such as Eisenhower, Churchill, Roosevelt, or MacArthur the contributions and sacrifices of those like Frank Draper, Jr. who is as great a hero of WWII as anyone, in my opinion. And when we think of the glory of our victory over Nazi Germany, let us not forget the broken life of Frank Draper, Sr. and thousands like him.

"What this is for today, I reckon, is to remember and help younger people know what happened and what freedom means to all of us."
Roy Stevens, 78 years of age, veteran of the D-Day landings
where his brother a fellow soldier died, at the dedication of the National D-Day memorial in Bedford, Virginia on November 11, 1997.

"I study politics and war that my sons may have liberty
to study mathematics and philosophy."
John Adams
Founding Father and 2nd President
of the United States of America

Vivas to those who have fail'd!
And to those whose war-vessels sank in the sea!
And to those themselves who sank in the sea!
And to all the generals that lost engagements, and all overcome heroes!
And all the numberless unknown heroes equal to the greatest heroes known!

Walt Whitman
Leaves of Grass

---

"Let us not ask God why men such as this should die in war...
Rather let us thank God that such men lived."
General George S. Patton, Jr.
Crossed rifles in the sand are a comrade's tribute to this American soldier
who sprang ashore from a landing barge and died on the D-Day beaches of France.
---

Some discussions....